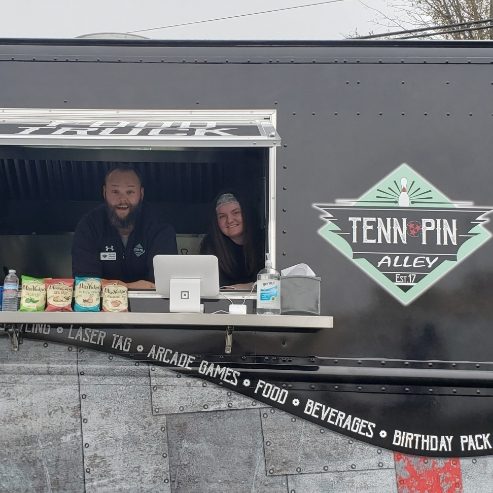 Eat at Tenn Pin
Food Truck!
Our specialty sandwiches and sides are one of a kind with a downhome twist. From our Buffalo Chicken Grilled Cheese to our Pimento Cheese and Bacon Empanadas, we'll be sure to fill you up with delicious food! Catch us at Asgard Brewery, Amber Falls or MRMC. Book your event now!
MO

TU

WE

TH

FR

SA

SU
27

28

29

30

1

2

3
4

5

6

7

8

9

10
11

12

13

14

15

16

17
18

19

20

21

22

23

24
25

26

27

28

29

30

31
1

2

3

4

5

6

7
Book the truck for an event!
Tenn Pin Wings 
Small 7 | Large 13
The best wings in town. A must try! Plain or tossed in your choice of sauce: BBQ, buffalo, garlic parmesan or teriyaki sauce 
Tenn Pin Nachos / 9
Deep fried sidewinders topped with chili, queso cheese, fresh tomatoes, lettuce and our famous Tenn Pin Sauce 
Loaded Fries / 8
Delicious seasoned French fries topped with chili, queso cheese, bacon and sour cream
Buffalo Chicken Grilled Cheese / 9
Secret buffalo chicken and cheese made in house and served on sour dough bread lightly buttered and grilled unYl golden brown 
Max's Café Tot-chos / 9
Deep-fried golden-brown tater tots topped with homemade mac & cheese, smoked pulled pork and drizzled with hickory honey BBQ sauce 
Breaded Pork Tenderloin / 9
Large hand-breaded pork tenderloin deep fried to perfecYon and served on a fresh hoagie bun with mayonnaise, lettuce, pickle and onion 
Cuban / 10
Juicy pulled pork, pork loin, white cheddar and pickles with whole grain mustard on a fresh bun 
Pimento Cheese & Bacon Empanadas / 8
Our homemade pimento cheese and spicy jalapeno bacon bits mixed with special spices 
The BBQ Lou / 9
Sweet and juicy smoked pulled pork, topped with a hickory honey BBQ sauce and a special made lightly spiced coleslaw and pickles 
Tenn Pin Mac-burger / 10
7-ounce beef patty cooked your way and topped with our homemade mac & cheese; BBQ pork drizzled in our hickory honey BBQ sauce on a lightly toasted bun 
Max's Café Philly Cheese Steak / 11
Tender cut shaved beef, sautéed with peppers and onions, smothered with your choice of swiss or pepper jack cheese, accompanied with our in-house secret sauce 
California Turkey Reuben / 9
Roasted smoked turkey breast piled high on toasted marble rye bread. Topped with a spicy house made coleslaw and our inhouse thousand island dressing 
Cheese burger, chicken tenders, hot dog, corn dog 
Get updates for events, specials and more at Tenn pin!