For Group Parties, Team Parties, Company Parties and Holiday Parties
Must be scheduled in advance
$12 per person Mon-Fri BEFORE 6:00pm
$16 per person WEEKENDS & Mon-Fri AFTER 6:00pm
2 games of bowling, shoes
Pick 1 Activity: Laser Tag, Bumper Cars or $5 Arcade Card
$16 per person Mon-Fri BEFORE 6:00pm
$ 20 per person WEEKENDS & Mon-Fri AFTER 6:00pm
2 games of bowling, shoes
Pick 2 Activities Laser Tag, Bumper Cars or $5 Arcade Card
*scroll down for our food and beverage options

**Packages available for a minimum of 10 guests, but we can customize for smaller groups. Not valid with any other offer or coupon. Price does not include sales tax or 20% service fee. Reservations required. Non-refundable deposit required **
Lock-ins are safe and supervised. We lock the doors and no one is allowed in or out.
Tenn Pin is a great choice for
Before or After hours only. Tax and gratuity are not included.
*Minimum of 80 people required. We can customize for smaller groups.
(10 person minimum)
Tax & 20% Gratuity not included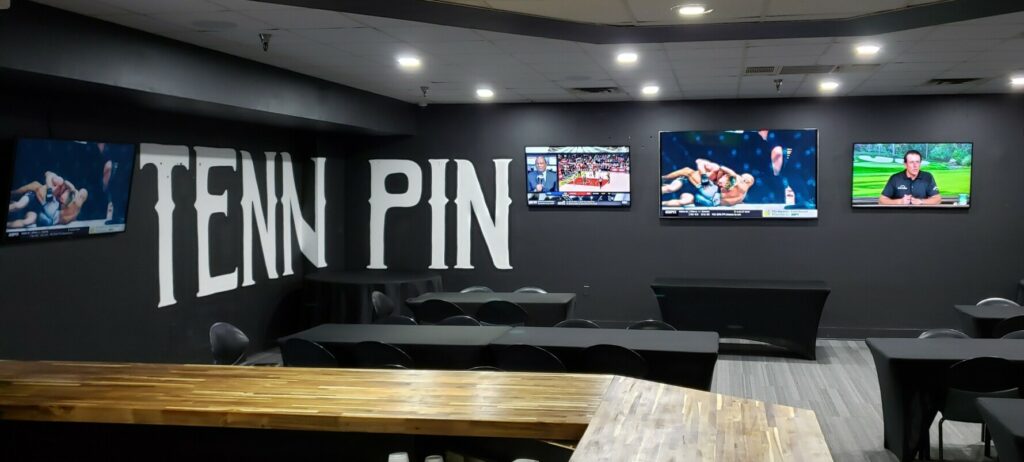 Private Meeting Room Rental $75 an hour
To book your next event please fill out the information below.